Looking for Kratom powder or capsules? That too of the highest quality? If yes, Green Leaf Kratom is the perfect place to buy Kratom online. What does it offer? A wide range of Kratom strains with unmatched quality, and the prices are awesome! You can buy Kratom powders, such as Bali Kratom powder – and capsules – of the leading strains.
What else sets us apart? Our reputation as a problem solver – we make sure our customers buy our products with confidence. That's why we provide all Kratom-related information via our Kratom blog.  Whether it's about a new breed, brand, or product line, or the latest news about the Kratom industry, you'll find everything at Green Leaf Kratom's blog.
Beginners and Kratom enthusiasts alike show deep interest in Bali Kratom powder. While most people buy the powder based on the vendor's reputation, some of them wanted to know what Bali Kratom powder actually is. This is why we're providing all the basic information in this post to help you reach your decision quickly.
So, let's familiarize ourselves with Bali Kratom powder, one of the top-selling Kratom products online.
Bali Kratom Powder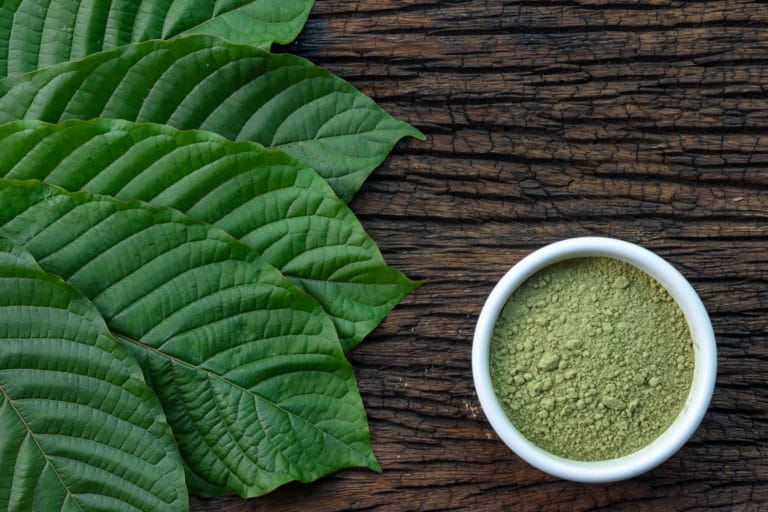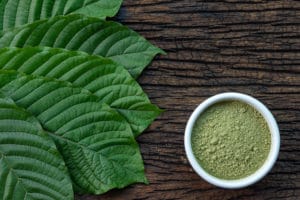 Kratom powder needs no introduction, to be honest. It's more commonly available than any other Kratom product. The good thing about the powdered form is, it is associated with almost all mitragyna speciosa subspecies introduced to the west. Among them, Bali Kratom powder is by far the leading Kratom powder.
Let's dig deeper and find out why Bali Kratom powder has gained such a solid reputation.
Bali Kratom Strain
Bali Kratom has a great reputation – not only because it's the oldest one around, but also due to the fact that it never fails to deliver. But you have to make sure you buy Bali Kratom powder from a reputable vendor, like Green Leaf Kratom.
As the name suggests, this strain belongs to the rainforests of Bali, an exquisite tourist spot featuring some of the finest coffees in the world. Kratom, being a member of the coffee family, also grows there in abundance.
A Bit About Kratom Tree
A Kratom plant resembles the coffee plant due to obvious reasons. It contains many substances that the coffee plant does. However, there is more to it when we talk about the ingredients.
According to one study, Kratom comes from Kratom leaves. They are an excellent source of mitragynine and 7-hydroxymitragynine alkaloids. These alkaloids make the highest concentration in the leaf. More interestingly, you don't find such a high saturation of alkaloids in any other plant, which basically makes Kratom a sought-after commodity.
Other substances present on the Kratom leaves include flavonoids, water, nutrients coming from the soil, contaminants, and impurities.
What Makes Bali Kratom Powder So Popular
Whatever the Kratom strain, its popularity is associated with these factors:
Alkaloid profile
Quality
Consistency
More than anything, the alkaloid profile of Kratom exhibits both qualitative and quantitative aspects, hence closely related to the strain's demand. If you compare different Kratom strains, you'll find Bali Kratom with the best alkaloid profile, meaning Bali Kratom leaves have the highest concentration of alkaloids, and more alkaloid types, than any other strain.
This is the main reason why Bali Kratom powder has gained so much popularity ever since its introduction to the western world.
The quality and consistency of any Kratom powder lay on the following things:
Where does the raw material (Kratom) come from?
How safe are the Kratom batches?
How many and what processes do these batches go through?
Kratom vendors with a good reputation tend to source Kratom from experienced Kratom growers in Southeast Asia. They also make sure that the batches are safe and processable by applying quality checks, such as third-party lab testing. Finally, their production stages have multiple checkpoints to ensure safety.
So, before you buy Bali Kratom powder, make sure that you buy it from someone with a good reputation in the market.
Buying Bali Kratom Powder: Local vs Online Stores
Bali Kratom powder is quite common, and you can find it in almost all the local headshops, Kratom stores, and smoke stores. But, you need to be wise enough to understand, no two stores are similar.
Prices may be different
Kratom quality may be different
Consistency may differ
Customer support may be different
Unfortunately, people usually avoid buying from local stores and prefer online Kratom vendors. Why not? Online Kratom stores offer:
Discounted prices
Special deals
Email promotions
Free shipping (depends on the vendor)
Further assistance
Knowledge base
The Best Place to Buy Bali Kratom Powder
There are no second guesses, Green Leaf Kratom offers the best Kratom powders and capsules. Not only Bali Kratom powder, but our entire stock featuring popular Kratom strains is fresh, lab-tested, and thoroughly checked for quality.
So, whether you're buying it for the first time or repeatedly, Green Leaf Kratom will give you the best shopping experience – no question about the quality of Kratom.