If you are looking to buy quality Kratom at a super affordable price, we suggest looking at our Kratom products and using this coupon code for amazing discounts.
About the Kratom Tree

Before we dive into what the Kratom high canopy leaf is, you need to know everything there is to know about Kratom powder itself. Kratom trees are natively grown in Southeast Asia. The tree belongs to the same family as the coffee tree and also looks similar. When fully mature, a Kratom tree will stand tall at 25 meters long, and the trunk will be as wide as one meter.
The Kratom tree's leaves are dark green in color and have a slight waxy shine to them. The shape of the leaf allows it to house several veins, of which 12 to 17 are usually present. The leaf can measure up to 20 cm in length and 7 to 12 cm in diameter.
What Climate Does Kratom Thrive In?
Like we mentioned earlier, Kratom trees are native to Southeast Asian countries. The most popular places where Kratom leaves, including Kratom's high canopy leaves, grow are Malaysia, Indonesia, Vietnam, Papua New Guinea, Thailand, and Brunei. They thrive in a tropical and humid environment, which is what makes these countries perfect for their habitat. Other than the atmosphere, the Kratom tree needs a certain kind of soil composition to be able to grow to its full potential and have the correct number of alkaloids present in its leaves.
When Do Kratom Leaves Grow Best?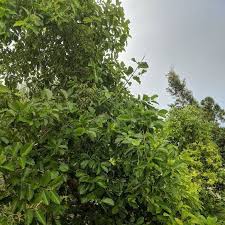 There are two main things that Kratom needs to ensure they grow well. These are good air quality and plenty of sunlight. We are talking about individual leaves now. Kratom trees grow in dense regions, which means many trees will be bunched up together and fighting for space.
Thus, the leaves at the bottom part of the trees lose out since they don't have access to as much air as they are being suffocated by the leaves on the top of the tree and the leaves from trees on the side as well. They also receive less sunlight than leaves that are situated above them. This means that the process of photosynthesis, in which they turn sunlight into food, is disrupted for them to a certain extent.
So, this means that the leaves that have greater access to sunlight and fresh air grow much better, and as a result, they are of much higher quality. These leaves are referred to as Kratom high canopy leaves!
Kratom's High Canopy Leaf

Now that we know the science behind the growth of Kratom, we can determine that the Kratom's high canopy leaf is superior – whether of any Kratom vein color. It is better in health, size, and even alkaloid concentration as a result of the exposure to the elements it has.
However, as you must have guessed, the Kratom leaves growing on the roof of the tree are fewer in number and thus are much rarer than ordinary Kratom leaves and far more coveted.
Since these leaves are much more popular, they are not easy to acquire and, at times, may cost a little more due to their exclusivity. However, they are not impossible to get. Farmers in Southeast Asia guard these leaves in particular and keep them close to their hearts because they know how rare they are and how much more beneficial they can be as compared to normal Kratom leaves.
This makes the Kratom high canopy leaf a sought-after item in Asia and now in America as well! If you have read this piece thus far, we are assuming you are interested in acquiring Kratom's high canopy leaf, so keep reading to find out how you can!
Where to Buy Kratom's High Canopy Leaf
So, if you are a connoisseur of Kratom or even someone about to purchase the product for the first time, you are in the right place. If you read this entire article, we are going to assume that you only want products that are the best of the best.
You value good quality products above anything else, and if that is the case, you are in the perfect place as we only sell the best products in the market. If you want to learn more about the strains we carry in our store, we encourage you to go through our comprehensive list of all Kratom strains.
We know there is a need in the market not only for high-quality Kratom USA, such as Kratom high canopy leaves but also for these products to be available at a reasonable rate. And guess what? We have both these requirements checked! Head on over to our website and check out our Kratom capsules.